Why car-share?
The Heathrow Car-share scheme is available to all Heathrow staff. We want to reclaim our #1 spot as the UK's top car sharing scheme, and need your help to make that happen. Members know the scheme works, its quick, simple and easy and now only a one step registration process. The Heathrow Car-share scheme is an online matching tool; you can join for free and register your journey and download the Liftshare companion app. You can register a commute journey, an occasional/shift journey or a one-off journey. The system will look for matches around your area but also will look for matches that you could pick up en route.
Benefits to carsharing
Save money
Free access to Team Heathrow carshare scheme
Priority parking in Heathrow managed car parks
Help cut congestion and CO2 pollution and congestion
Those who validate their car share at the start of every journey automatically get entered into monthly prize draws
Find someone to car share with?
Register your journey as either a passenger, driver or both.
Search for a match and send a request to share – either 'ask to share' within the passenger section or 'message' within the driver section.
We suggest meeting for a coffee first.
Please print your new permit
Liftshare members who are sharing can now print their own permits - no waiting for it to turn up in the post. Simply go to 'Liftshare Teams' from the menu bar on your profile page and select 'Parking permit', the permit will load on a new page which you can print and place on your windscreen.
Validate your journey on the Liftshare app every time you car share for extra benefits…
Make sure you validate your car share on the Liftshare app as soon as you start sharing your journey every time you share, with your Liftshare partner. You don't need a parking permit as well.
You can via the Liftshare App by scanning the QR code on the driver's app. When a Liftshare Parking Permit is scanned (by a parking attendant), the scanner will show whether those in that car have shared their journey that day or not.
Watch our video on how to use the app
If you're having any difficulties, please email commuter@heathrow.com
Save money
Travelling doesn't have to cost an arm and a leg. Join Liftshare for free, become a supercommuter and try effortless cost saving - Share the ride, split the cost.
Reduce CO2 emissions
Be part of the bigger picture and help to reduce global CO2 emissions. Liftshare is on a mission to save 1 Billion miles, and you can be part of that by simply sharing your commute with someone else going your way
Stress free
Stuck in traffic? We've all been there. Cut congestion and reduce the stress of travelling by sharing a car with your next best friend.
Car sharing saves me from commuting on a crowded train, is cheaper, better for the environment and more sociable too.
Happy Liftshare members - Yves, Laura and Nadia
Read more member stories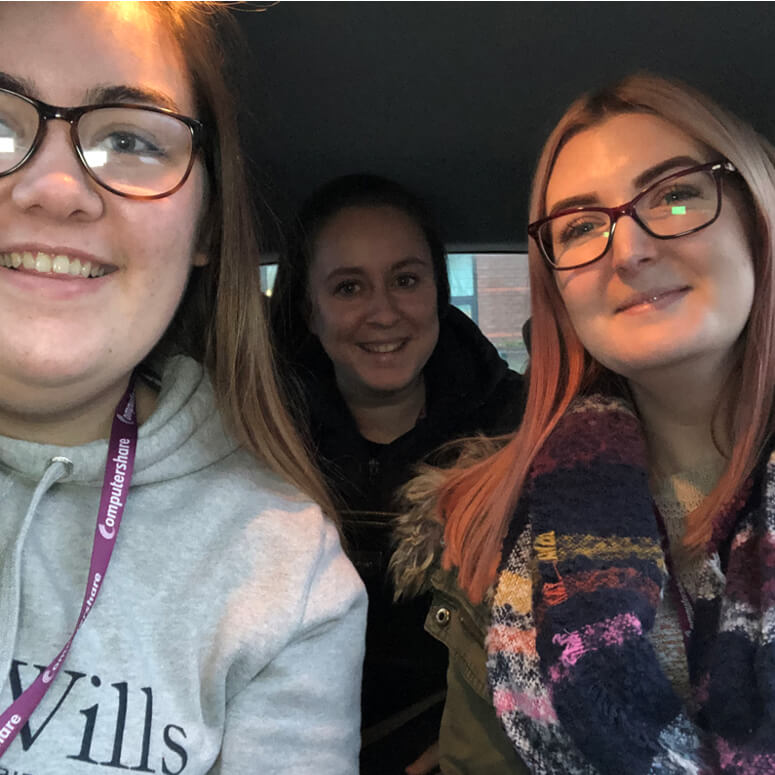 It really is as simple as it sounds
Car sharing allows you to share your commute with others who make similar journeys every day. Catch a ride with a colleague, offer to drive others yourself, or sign up to be a passenger or driver - simply decide what works best for you (or whose car is better) and get going. Our scheme is a flexible and convenient way to adapt your commute.
Driving to work is easy, and preferable for many of us at Heathrow, but we can make it more cost-effective and planet-friendly with a more collective approach.
Get access to priority car share parking bays too.
Reduce monthly petrol spend by splitting fuel costs Click here to calculate your savings
Reduce the wear and tear of your car by making fewer journeys
Socialise on your commute
For more information email us at commuter@heathrow.com